Please check back the week of November 12th to see our webinar offering.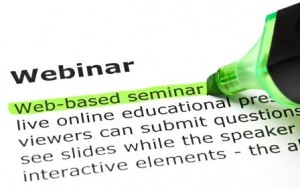 A webinar or webcast is a seminar that is Internet based. It allows you to feel as though you are in a live classroom – without having to leave your office and travel to another location.  So,  a webinar saves you both time and travel costs while getting the same quality speakers and content that you expect from a classroom environment.  Webinars are considered "live" CPE  so you do NOT have to take an exam although you do have to answer polling questions that pop up during the webinar.
In this format, you can
–-Course materials available for download on webinar site
–View slides of the presentation on the screen as the instructor goes through them
–Ask questions of the instructor
–Earn CPE credit without having to take an exam
–Receive your certificate of completion after the event via email
This is a great format to try. CPE live webcasts qualify as live CPE in all states for CPAs. For more information  on CPE Acceptance  click here.
If you have specific questions please click here for FAQ- Webinars.
It is recommended that you test your system before the webinar begins.